For our affiliate partners
N&S offers partnership to companies and businesspersons aimed at regional markets in the field of betting.
N&S is willing to share its experience in the integration and optimization of data from different bookmaker offices, sources of sports statistics and the development of ready-made web-services aimed at end users.
N&S offers its partners control over language versions of Newsandscore.com, a turnkey solution for opening their own site on betting, and access to the API for the integration of individual betting services into existing sites.
White label
Your brand and domain – our solution for comparing bets, statistics and connecting bookmakers bets on a turnkey basis. Our professionals will take care of all the responsibilities such as hosting, installation, site settings with your domain, as well as technical support. We can provide you with modern, customizable sports betting site CMS.

Advantages:
Online statistics – 25 sports
Match center
Live betting odds (10+ bookmakers)
Bet slip calculator
Bet slip
Automatic recommendations on the best parlays
Outright bets
Popular bets
Individual pages for teams and players
User dashboard with favorite teams info and notifications
Online game streaming
Bet tournaments
Value bets
Comparison of bookmakers' bonuses
Comprehensive news
Match day for each sport
Customizable home page
Email campaigns
Social network integration
Banner management system
Installation, configuration, hosting, maintenance, SEO- and marketing support of the project by our experts in betting under your brand.
N&S Local edition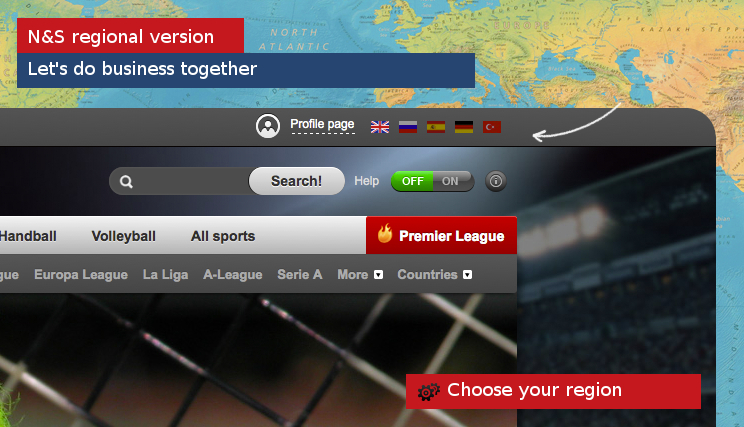 Partner gets the local edition of News&Score ready for use. The benefits of such an offer – a two-year history of N & S, contractual relationships with the leading European bookmakers, SEO-indicators, customized and already running services, effective technical support and hosting, and of course, the share of traffic over one million people from around the world for the first half of 2013.
Partner is entitled to full administration, promotion and profit on a local edition of the News & Score. For example, newsandscore.com/es.
API
The advantage of this method is that such data can be easily integrated into the existing structure of the site, enriching it with new useful data for users and granting the opportunity to create your own match and tournament pages with widgets for comparing bets of the leading bookmakers.
Access to the optimized and standardized data on sports statistics, Live Commentary of matches, bookmakers' odds (prematch and live), technical support and maintenance of API-integration into your project.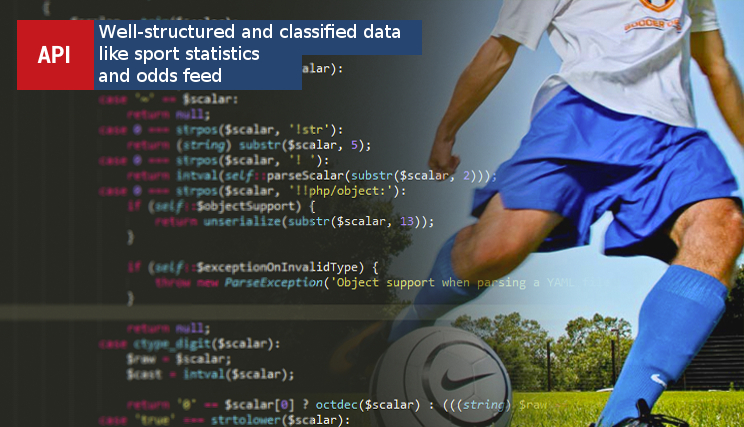 Sport statistic API features:
Getting a list of sports ; li>
Getting a list of tournaments by sport id ; li>
Getting a list of sport id; li>
Getting a list of seasons by sport id; li>
Getting a list of matches by sport id ; li>
Getting a list of matches by tournament id ; li>
Getting information about the match by match id; li>
Getting information about the command by command ID ; li>
Getting information about the current and next time matches ; li>